Post & Panel Signs
View Sign Gallery
With unrivaled versatility and affordability, post and panel signs are becoming the go-to choice for educating both potential and existing customers. Your company is sure to get the attention you desire with eye-catching panel signs, especially when well-conceptualized by a professional sign company, like Orlando Sign Company.
Your dedicated post and panel signs experts, we work hard to supply attractive signage products that support your brand promotion and business marketing needs. All of our custom signs are designed with your needs in mind and are crafted according to your requested materials, shape, and size. Attract new customers and generate brand exposure with high-visibility, eye-catching post and panel signs!
As your local, full-service post and panel sign system providers, we also provide sign repair and replacement for existing panels. Whether you just need a signpost, panel signs, post bases, or even replacement post finials, Orlando Sign Company has exactly what you need.
Call Orlando Sign Company today at (407) 890-8813 for your Free Consultation!
Effective Wayfinding and Directional Signs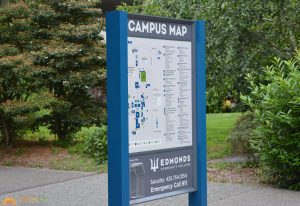 Helpful wayfinding signs and directories assist people who are new to your facility by telling them where they are and by guiding them in the right direction when they're looking for something. Post and panel signs are excellent for helping people find their way.
Created with visibility in mind, post and panel signs turning into one of the most popular ways to assist your customers and guests with easy facility navigation. As your local signs and graphics professionals, we fully understand the principles of wayfinding signage design. Our custom signs and graphics are designed utilizing dynamic and exciting shapes, sizes, colors, and layouts to produce beneficial wayfinding, navigational, and directory signage.
Signs That Showcase Your Brand
Reassure potential customers and guests that they came to the right place. More economical than a large monument sign but providing the same feeling, post and panel signs are an excellent choice for identifying your business location.
With various options available regarding their location, type, material, size, shape, and color, post and panel signs attract potential customers and reinforce your branding simultaneously. Orlando Sign Company understands that your signage must be cohesive with your brand marketing to build brand awareness. We custom-craft many options for post and panel signage, for instance, we offer aluminum and curved metal panels, sandblasted or carved wood panels, PVC posts and panels, LED message boards, and many other options.
Orlando Sign Company also knows that property signs are usually intended as an enduring element, so we focus on delivering products that are long-lasting, making our services the perfect choice for your outdoor business sign needs.
Low-Cost Outdoor Signs
Looking for a short term exterior signage solution? Post and panel signs could still be the answer for you. Orlando Sign Company offers cost-effective options including PVC signage with vinyl graphics. PVC sign panels are typically less expensive than metal sign panels, but they do the job and can withstand exposure to many weather conditions significantly better than wood post signs.
Post and panel signs are favorite for real estate promotion, special events, construction site identification, and other locations where signs and graphics are frequently changed, updated, or refreshed.
Full-Service Sign Company
We produce the most effective sign and graphics solutions to support your business goals. Our services are tailored according to your preferred timeframe, budget, and market.
With our reliable team of signage professionals, Orlando Sign Company is on your side throughout the entire process. From consultation to custom design, fabrication, positioning, and skilled sign installation, we are the right signage company for you. When you require signage that is appropriately finished and delivered on time, consider Orlando Sign Company.
Free Post and Panel Signs Consultation
Showcase your business and brand with effective, high-impact signage elements like professional post and panel signs by Orlando Sign Company! Taking care of every single facet of your signs and graphics project, we deliver branded and promotional sign and graphics components that reinforce your business goals.
Call Orlando Sign Company today at (407) 890-8813 for your Free Consultation with a Post and Panel Signs Expert!