Car Wraps
View Car Wrap Gallery
If you own a company car and want to increase your visibility, then it's time you maximize your marketing opportunity with vehicle graphics and wraps by Orlando Sign Company.
Most firms use vehicles to deliver products to customers, or just as a perk for their employees. Well, with a branded vehicle wrap, you can be able to deliver your marketing messages, contact details as well as your logo to the potential local customers out there.
As you commute to and from work, you have the chance to promote your company and take advantage of those missed opportunities, displaying your brand message to any person who sees your company car. You would be surprised at how many people a single branded car can reach without altering your daily activities.
Call Orlando Sign Company today at (407) 890-8813 for a Free Consultation with a Car Wrap Specialist!
High Visibility in your Local Region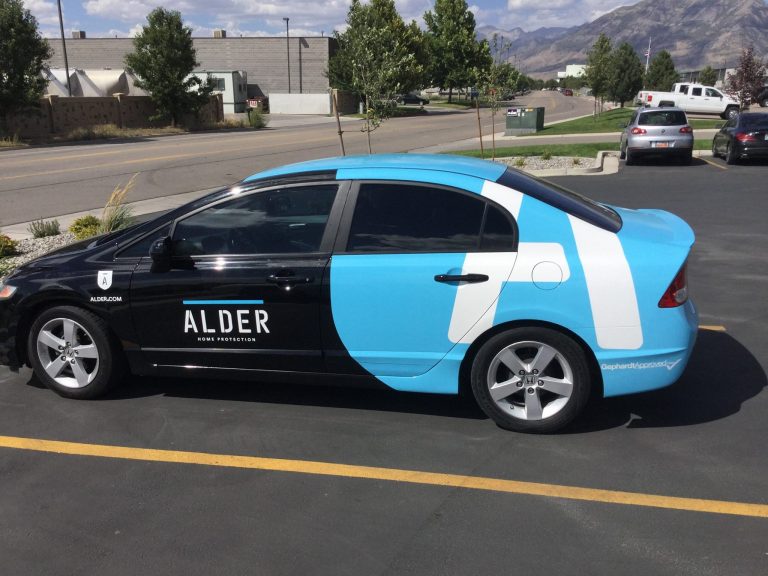 No matter where you drive, be it a huge city or along the rural roads, without branding, you're just another vehicle in the streets, blending with the rest. You are hardly noticed as people go about their day to day activities.
Now, imagine that you are driving in a custom branded car that contains your message and contact information. Since you will be using the same route, more and more people will start recognizing your company, and as a result, more calls will start coming in. Before investing in car wraps, you may have received calls from just the local people, but now, you are receiving calls from all over the region!
Vehicle wraps are an excellent way to achieve broader visibility for your company, enabling you to penetrate markets that you would otherwise have to spend more money to access. With most people using the same routes daily, you will start to gain their attention, and they will ultimately benefit from the products and services that you provide. As they go about their errands, they will start remembering your business just like you recognize that sign spinning guy on the street. This will make them instantly think of your company when they need products or services that you offer.
Protect your Investments

We use high-quality and durable vinyl material to make vehicle wraps that are not only meant to look appealing but to also protect the paint job of your cars by shielding them from road wear. Any company vehicle is a significant, long-term investment and so, we try our best to ensure you get the most out of it by creating not just an impactful and appealing branding tool, but one that ideally protects the value and longevity of your vehicle.
Our dedicated team of installers handles the whole process from preparation to finish, thus ascertaining that the final product meets not just your standards, but ours as well. We are aware that only a properly installed vehicle wrap is with both your name and ours.
Entirely Customized to Your Requirements
Every company is different, with a distinct branding message. The best vehicle wrap is one that reflects that. An ideal wrap needs to be professional and feature elements that are easily visible even from a distance. This is the only way to make your brand stand out while on the road.
Our specialists design magnets, graphics, and wraps that properly fit the shape of your car. Our designers will do their best to find a product that works best for your vehicles and the company as a whole.
We design, manufacture and install wraps and graphics for all kinds of vehicles.
If you have various types of cars in your business, you don't have to worry as we create wraps for almost anything, from RVs to ATVs. You can be certain that our designs will help increase your company's market awareness and visibility. We can even modify the wraps as your business evolves to ensure you have the freedom to grow and expand regardless of the direction your business takes.
Complete Car Wrap Manufacturer
We specialize in manufacturing and installing wraps, and so, you can expect our team of professionals to help you through every step of the process from preparation through installation, repair, maintenance and even removal. We first listen to your ideas and needs and consider them through every aspect of the project. This is how we ensure that the wraps not only reflect your business but also increase the lifespan and value of your car while adding a new layer of visibility to your brand.
If you want help with wrap repair, replacement or even removal, our team is here to help get your message back on the road.
Free Consultation
Orlando Sign Company is here to protect your investment, increase your business visibility and attract new clients with custom, durable and high-quality vehicle wraps. Whenever you want appealing, cohesive and long-lasting vehicle wraps or any other signage, we are your local sign company, dedicated to assisting our clients to reach their marketing goals.
Call Orlando Sign Company today at (407) 890-8813 for a Free Consultation with a Car Wrap Specialist!