Commercial Building Signs
View Building Sign Gallery
Your storefront or your building-façade is what constitutes for the 1st impression made by potential customers or clients to your company.
At Orlando Sign Company, we can guarantee that your first impression will be an exceptional one!
Appealing building signs that catch the attention of passers-by can ensure your business stands out from your competition, while at the same time allowing for a way draw more eyeballs and interest which ultimately translates into more dollars for your business. Whether your goals are focused on attracting more customers or visitors with the use of promotional signage or perhaps you need to grow your brand using logo signs, we have the skills to design and the manufacture as well as install the ideal signage that your business needs.
Call Orlando Sign Company at (407) 890-8813 for your Free Consultation with a Building Signs Expert!
The Right Sign For Your Building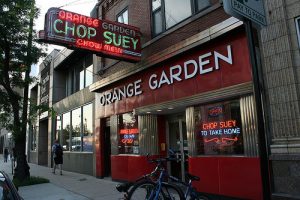 Each company has their own set of unique requirements in association to the different building signs. Where you are located, the personality of your brand, your competition, target audience and budget all impacts on the decision you will make in regard to the building signage you will need.
Our experienced consultants for building signs offer on-site evaluations to offer you with the best options for your available space as well measure the building for a precise installation process. Our consultants will recommend just the right products, the processes along with signage elements that suits your business best. We work on all aspects associated with your customized signs, from the first consultation with you right through to the installation. This includes the designing, manufacturing, followed by maintenance along with repairs when required. If needed, we will also assist you with permits.
Types of Building Signs
We have a couple of popular signage types that we typically recommend. Depending on where your business is located the type of business you own, we will either recommend the signage which complements surrounding signs, or we will suggest contrasting signage that will make your business stand-out from any of the surrounding businesses. Which ever signage you have decided on, we will make sure your signs complement your brand and business location.
All the signs we design, and manufacture are all uniquely crafted. This always means that even when using signs that are the same as businesses that are around you like the popular Channel Letter signage, your signs will still appear completely different and unique, while still offering that cohesive touch.
Channel Letters & Dimensional Letters
The most popular choices for our building signs includes the dimensional and channel letters signs. This type of signage is versatile and comes in various options when it comes to font, styles and colors. This type of signage includes individual numbers or letters as well as shapes or logos. This signage is one of the more popular choices for a variety of businesses, from manufacturing facilities to retail stores because they offer a high customization level and their extremely durable designs. Channel letter signage offers the option of housing lighting due to their transparent faces, while the dimensional letters will typically be cut out of sheets of acrylic or even metal. These signs can also be backlit to attract maximum attention.
Lighted Signs
The lit-up building signs provide an excellent opportunity to ensure your business is easy to locate at night or during the day. There is various sign types that use backlighting or lighting. The Channel Letter signs usually include backlighting while cabinet signs usually used lighted elements inside. This signage works well for businesses that operate at night, like theatres, retail stores, convenience stores, gas stations, bars and nightclubs. Lighted signs are one of the best ways to increase visibility to your business.
Projecting Signs, Hanging Signs & Blade Signs
Projecting, blade or hanging signs are the type that are positioned perpendicular to buildings rather that attached flatly against the building's façade. This signage type comes in backlit-cabinet signage or you can choose from custom materials that include wood, High Density Urethane Foam or even metal. These signs are excellent to attract people walking past your business and complement and work together with storefront signs. You can also use this signage type to direct customers when you shop is positioned inside a commercial building, like a hairdresser situated above a florist.
Canopy & Awning Signs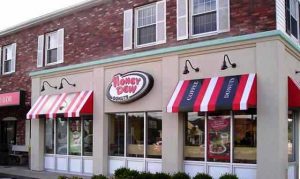 Awning signage serves a dual purpose in the way of a noticeable business identifier in addition to a protector for your storefront. This sign is usually made from stretched canvas materials but can also be made from other fabric types or metal, which will depend on your specifications or your desires. When it comes to the awning signs we always suggest the products which will be resistant to the elements to extend the lifespan of your signage. This signage type is ideal is you want to achieve that boutique feeling or when you would like to offer a canopy to your business for places such as hotels along with open-air restaurants.
Free Building Sign Consultation
Orlando Sign Company are ready-and-waiting for an opportunity to help you create eye-catching and professional signage for your business. We are aware that the correct signage is crucial for attracting your targeted audience and customers, and we are eager to work alongside you to achieve your signage goals.
Call Orlando Sign Company at (407) 890-8813 for your Free Consultation with a Building Signs Expert!